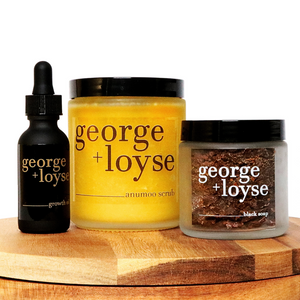 Discover the ultimate in selfcare with the George + Loyse Experience. This exclusive bundle offers our top selling products that you can use from head to toe for clean, glowing skin. With gentle abrasive & non-abrasive exfoliation, the products in this bundle can help all skin types achieve rejuvenation. Enjoy the clean & relaxing scent while using this set & embrace the joys of being pampered in the comfort of your own home.

Anumoo Scrub Unlock harmony & glowing skin with this luxe body scrub. Here to invigorate your senses with a lavender citrus scent. This full body scrub has a shea butter base & the added bonus of in-shower moisture. Radiant skin awaits!
Ingredients: sea salt, himalayan salt, shea butter, olive oil, avocado oil, coconut oil, hops, lime, lemon, lavender essential oil blend
11oz.
Black soap Discover the bountiful healing benefits of our black soap. Made with extra special ingredients for natural exfoliation, designed to work for all skin types. Get ready to nourish, cleanse & restore your skin!
Ingredients: raw african black soap, coconut oil, jojoba oil, vitamin e oil, turmeric, Himalayan salt, frankincense, lavandin essential oil blend
4oz.
Growth Oil Infuse your locks with growth oil! Lightweight & invigorating, it's perfect for all hair types & beards to stimulate growth, add moisture, clarify & rid itchy, dry conditions. Reinvigorate your locks & self confidence with George + Loyse Growth oil!
Ingredients: coconut oil, jojoba oil, jamaican black castor oil, avocado oil, tea tree essential oil, peppermint essential oil, carrot seed essential oil, clary sage essential oil, rosemary essential oil, lavender essential oil, nettles, rosemary, lavender
1.5oz